A Second Glance For A Second Chance To Get Noticed
Second looks and stolen glances are proof that guys who invest in their appearance get noticed. Putting on a sharp suit and tie isn't enough to hone in on that suave sophistication and overall cool factor. For a fresh new look, start by revamping your hairstyle. Iconic men throughout history have been characterized by an enviable head of hair. Whether you're styling your hair into a sleek hairdo that matches your suave wardrobe or tousling through your natural flow, every hairstyle begins with the right products. We'll walk you through all the must-have products for manly hairstyles, because your hair deserves as much attention as the rest of your appearance.
Pomade
Pomade is a man's tool for getting sleek, styled hair. These products feature a strong hold with high shine. Pomade products have natural oils to nourish your hair and help it hold its style. Softer than gel and wax, pomade gives you a slicked back look and helps your hair shine. Start with damp, clean hair for the best results. Use a blow drier to warm up the pomade and make it easier to work through your hair. It takes practice to perfect pomade, too much of it looks greasy. Use as little product as possible, because pomade can be difficult to remove.
Wax
For men with short to medium length hair, wax is a great styling tool. Hair wax has a number of different names, including putty, molding creme and styling paste, but they all work to provide medium hold and low shine. These products add texture to your hairstyle while maintaining a flexible hold. Styling your hair with wax works best starting from dry hair. Professionals recommend working from the back of your head and moving toward the front.
Gel
Gel hair products give you a wet look while offering a strong hold and high shine. Pay attention to the difference between light hold gels and firm hold gels. If you have thick, full hair, light gels won't be strong enough. Men with fine hair will find that the firm hold gel products add too much weight. Stylists recommend starting with clean, towel-dried hair and rubbing a small amount of gel through the strands. Be careful not to use too much, or your hair will look crunchy instead of cool. Hair gels are notorious for making a guy's hair look hard and flaky, so it's important to find a balance.
Cream
Styling creams are ideal for men with medium to long hair. These products give guys a natural look with just enough shine and a little bit of hold. Grooming creams manage frizz and flyaways. Many offer additional conditioning benefits to moisturize your hair. Apply a small amount to your fingertips and sweep them through your towel-dried hair. A blowdryer can help solidify the look.
Hairspray
Hairspray gives you a lot of control over how much to apply and how strong of a hold you want. Guys generally go for a lighter formula to add volume and secure their look. Mist dry hair from a couple inches away to lock it in the style. Take it easy on how much hairspray you apply, too much will make your hair noticeably crispy. Also avoid wearing hats on the days you use hairspray. This will definitely leave you with a wild case of hat hair.
Sea salt spray
If your morning routine doesn't include a trip to the ocean, sea salt spray gives you the same textured and tousled look. More than a bottle of ocean water, this product absorbs some grease, gives a little shine and volumizes your hair. Guys with medium to long hair spritz it on their damp hair and work it through the strands with their fingers for an effortless, natural look. It can also be used on dry hair. Either way, make sure to shake the sea salt spray before use.
Dry shampoo
Dry shampoo helps guys with all kinds of hair look fresh without washing their hair every day. Shampoo strips away the natural oils that are fundamental to healthy hair. Hair care professionals recommend shampooing every other day and using a dry shampoo in between. Dry shampoo absorbs extra oil, so your hair doesn't look greasy, and gives you a clean scent, so you're not grossing people out. It also acts as a styling tool, adding volume and texture. Spray your roots from a few inches away and work the product through your hair with your fingers or a brush.
The right products make all the difference when it comes to styling your hair. Guys who have mastered their style understand that even a naturally tousled look requires some maintenance. If you're wanting new ways to freshen up your appearance, revamp your hairstyle and recreate your image. Who knows, giving your hair products a second glance might lead to that second look that gets you noticed.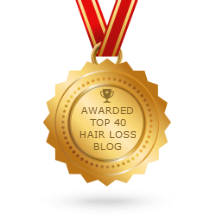 This blog has been ranked as a Top 40 Hair Loss Blog! Check out the complete list here.
Hours
Monday - Thursday: 8am - 5pm
Friday: 8am - 4pm