Razor companies promote their product by offering you the best, closest, smoothest shave of your life. If you really want the perfect shave, however, it takes a professional. Barbers have been grooming men for centuries. The profession is rooted in a rich history of tradition, community, and symbolism.
Barbers throughout history
The word barber comes from the Latin word for beard. Today barbers specialize in cutting, grooming, shaping and shaving men's hair, including their facial hair. Throughout history, however, barbers were also responsible for surgical and dental procedures. Their skill in these areas helped earn barbers a respected place in society dating back to ancient Greek and Roman civilizations. A man's first shave was a moment of celebration in early Roman culture. There was even a time when barbers received higher pay than surgeons.
Barber's pole symbolism
Barbers were responsible for medical services like bloodletting and other surgical procedures. They also extracted teeth. Local barbershops were identified by a barber's pole. Traditional white, blue and red striped barber poles symbolize the different services offered by barbers. White is meant to symbolize bandages and red stands for the blood from bloodlettings. There are many different versions of where the barber pole concept originated. Some say that the barbers would hang clean, white bandages and bloody-stained red bandages outside to dry. The wind would twist these bandages together into a spiral pattern, which became the inspiration for a barber's pole. Blue stripes are more common on barber's poles across the US. There's not necessarily color symbolism associated with the blue stripes, but many people think of it as a reference to America's red, white and blue flag.
Barbershop communities
Daily barbershop visits became routine for the ancient Greeks and Romans who would collect the latest town gossip while they got a morning shave. It was not uncommon for barbershops to be an area of political discussions and public debates. Barbershops have been places of community ever since. Although less common today, barbershops continue to be seen as a place for men gather and socialize.
Barbershop quartets 
The rise of barbershop quartets came from the community that formed between men as they socialized in barbershops. In the South during the late 1800s, African-American men would break into song as they waited their turn in the barber's chair. Each barbershop had their own group of singers since these vocal performances emerged at a time when black people were not allowed into concert halls. Barbershop quartets are characterized by their four-part harmonies, unaccompanied by musical instruments. A traditional barbershop quartet includes a lead singer, a person who sings tenor, a baritone, and a bass.
With the invention of electric razors, more men are trimming their own beards. The true art behind barbershop shaves is fading and the community around these shops is disappearing with it. The legends of barbers and their trade will continue to live on through the iconic barbershop poles, barbershop music, and anyone with a really good shave.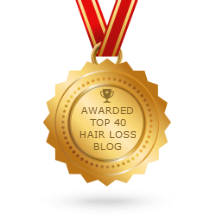 This blog has been ranked as a Top 40 Hair Loss Blog! Check out the complete list here.
Hours
Monday - Thursday: 8am - 5pm
Friday: 8am - 4pm