On St. Patricks's Day, people celebrate redheads. Although this holiday doesn't originate with gingers, they're closely associated with leprechauns and Irish heritage. Those who don't have ginger hair use dyes and wigs to join in the fun and capture the luck of the Irish. Unlike these people, natural redheads don't wash out their fiery color the next day. The ginger community bonds together over their shared hair color and all the physical characteristics it brings with it. Whether you're strawberry-blonde, ginger, auburn or a classic redhead, you're unique traits go much deeper than your hair color.
The ginger gene
Less than 3 percent of the entire global population can boast natural red hair. The combination of red hair and blue eyes is the rarest in the world. Although redheads are few, they're proud of their distinctive color. Men and women with red hair have a unique gene expertly named "the ginger gene." This recessive gene has a slight mutation that makes hair red, skin pale and freckles prominent. Since recessive genes generally come in pairs, redheads are also more likely to be left-handed.
Redheads produce Vitamin D, no sunburn required
Fair complexions make redheads more prone to painful sunburns. Gingers have low amounts of a chemical that helps the body absorb Vitamin D. This means they won't have enough Vitamin D no matter how long they soak up the sun. To compensate for this deficiency, pale redhead bodies are able to produce their own Vitamin D. This is important because redheads have a greater risk of skin cancer, so they should avoid prolonged sun exposure.
Ginger sensitivity
Your red hair might be causing the rest of your body to turn blue. People with auburn hair are said to bruise more easily and be more sensitive to hot and cold than the rest of us. Science has proven that body temperatures change faster for people with various shades of auburn hair. There is also evidence that gingers have teeth that are especially sensitive to cold and sugar. While redheads have some strong sensitivities, they're definitely not sensitive to sedation. Gingers require more anesthesia for surgery than the average patient.
Red hair holds pigment
The pigment in red hair is stronger than other colors. This means that redheads hold their color well and the graying process is much smoother. Redheads typically don't go gray at all; instead, their hair fades to a silvery white. Natural redheads have a harder time coloring their hair because they dye doesn't usually hold without bleaching. In addition to holding pigment well, red hair is thicker than other colors. This gives redheads the illusion of full, voluminous hair when gingers actually have significantly fewer strands of hair on their heads.
Fiery hair stereotypes
Gingers are celebrated today for their desirable hair color, but throughout history, they have been subject to violence and stereotypes. Some cultures believed that anyone with auburn hair was a witch and freckles had satanic meaning. Pop culture references helped spread the belief that gingers have no souls. In Greek mythology, people with auburn hair would become vampires when they died. Fortunately, we know that none of these stereotypes are true. What is true about redheads is that bees are more attracted to them than other people and female redheads have more sex than blondes and brunettes.
Redheads are misrepresented and misunderstood throughout history and in modern stereotypes. Although most people don't understand why, they realize that gingers are beautiful, special people. Men and women with red hair are identified by their fiery color, but the additional physical traits that are part of being a ginger make them unique. Natural redheads celebrate their hair on St. Patrick's Day and every day. If you're lucky enough to be a ginger, you don't need the luck of the Irish.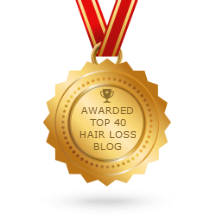 This blog has been ranked as a Top 40 Hair Loss Blog! Check out the complete list here.
Hours
Monday - Thursday: 8am - 5pm
Friday: 8am - 4pm