The Silver Lining In Going Gray
Gray hair is a chic new color trend for young people, but for those of us who are naturally turning gray, it doesn't seem as stylish. Gray hair is associated with wisdom, sophistication and…old age. The good news is that if you're stressing about going gray, it won't speed up the process. Scientists don't believe that stress and fear turn your hair white. Whether you're ready to be a silver-haired fox or you're stocking up on hair dye, there are some gray hair basics you need to know.
Why does hair turn gray?
Your hair roots are surrounded by follicles. This skin tissue contains a number of pigment cells that color your hair with melatonin. The amount of melatonin your body's cells contain determines how pale or dark your skin is. The same concept is true for your hair. If your hair follicles have more melatonin, you will have dark hair. If you have less melatonin in your hair follicles, your hair will be lighter.
The pigment cells in your hair follicles will eventually begin to die, which means you will have less melatonin available to color your hair. Without melatonin, hair grows white. Pigment cells begin to die off at different ages for different people. The process depends on your family history and genetics. Some people report gray hairs as early as their teenage years, but it generally doesn't happen until people reach their 30s and 40s. Certain medical conditions, like diabetes or thyroid problems, contribute to early graying. Once a person starts to notice silver hairs, the process can take years to turn a full head of gray hair.
Healthy hair in every color
Eating a balanced diet that's rich in protein, iron, calcium and other vitamins helps maintain hair health. Healthy hair will look young in any color. Multivitamin supplements with Omega-3s provide your hair with moisture to prevent itchiness and dandruff. Copper helps boost your hair's melatonin production, so supplements with copper in them can help prevent grays. Massaging your scalp while you shampoo it improves blood circulation to your hair, which makes sure your hair follicles get all the nutrients they need.
Hair dyes disguise gray hair
There's a silver lining for people who are looking to conceal their silver hair. There are various options to help you hide the grays, which is especially important if you have brown or black hair. Gray hairs are more noticeable in people with dark hair because they stand out more. If you're just starting to lose your hair color, semi-permanent dyes work with your natural color to disguise the white hairs. Highlights also work to help the white hairs blend into the rest of your colored strands. Professional coloring treatments offer a more permanent solution for people with a full head of gray hairs.
Embrace your gray hairs with proper care
One low-maintenance, low-cost solution to manage your graying hair is to embrace your gray strands. White hair does not make a person old. It's a trendy color for all ages. You don't get to be a silver-haired fox without the silver hair. Get a new haircut to give your silver hair an edgy new style. Shampoos and conditioners with a blue or purple hue protect your hair color from turning a gross yellowish color. Black, white and jewel-toned clothing can make your gray hair look sleeker and chic-er. The minerals in hard water make gray hair look dull, so make sure you're using soft water or a shower head that filters hard water as it flows through.
Moisturizing your hair is more important than ever when it turns white. Silver locks are drier and more coarse than your hair used to be. Conditioners, oils and other hair moisturizing products will preserve your hair's natural softness. Since gray hairs can be more wiry than you're used to, it can make your eyebrows look like they belong on a mad scientist. Keep your silver brows trimmed and in control. Use a makeup pencil to make translucent brows more visible.
Going gray can be an emotional process, one that many people stress about for years. Fortunately, this stress won't make your hair turn white any faster. Gray hairs don't mean you're old; they're also seen as symbols of wisdom and sophistication. Whether you decide to embrace your white hair or disguise it with hair dyes, there are a lot of ways to find the silver lining in going gray.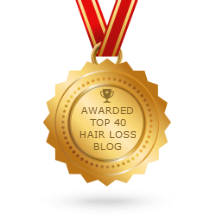 This blog has been ranked as a Top 40 Hair Loss Blog! Check out the complete list here.
Hours
Monday - Thursday: 8am - 5pm
Friday: 8am - 4pm