Tip Your Hat To These Suave Hat Styles
Hats are an easy way for people to transform their look, taking their style from standard to sophisticated. Men and women have been flaunting all kinds of iconic hats for decades, but not in the same way. Guys have their own style and a bunch of different hat options that contribute to their polished appearance. If you can master the art of wearing a hat, your look will never be out of style. Here's a rundown of the basics between different kinds of hats.
Baseball caps
Baseball caps are an American icon that brings us back to warm summer days spent fishing from the dock or pitching fastballs from the mound. Whether they're snapbacks, adjustable or fitted, these caps often feature some kind of logo. Sun-soaked baseball hats that are worn and weathered to perfection make great accessories on a casual day. When you don't want to represent your favorite team, a plain cap is a dressier way to add street style to your appearance and shade your eyes from the sun.
Beanies
Beanies and stocking hats are winter must-haves. They keep your head and ears warm against icy winds and freezing temperatures, even though they're almost guaranteed to mess up your hair. To avoid the dreaded frizzy, messy hat hair, get a nice beanie that you can work into your outfit and wear all day. This means you wear a plain, versatile hat instead of the one with tassels and wild colors. Beanies are still considered casual, so you might not get to wear them around the office, but it's perfectly acceptable to wear them in more casual environments.
Fedoras
Fedora has become a generalized word to describe all styles of men's hats. Men have paired the classic fedora with Cuban cigars and suave style since the early 1920s. Actual fedoras have a crease down the middle and pinched, sturdy sides. The flexible brim is a fundamental part of these hats, because it's flat and can be molded to fit your look. Felt fedoras add a sophisticated touch of style to your wardrobe year-round. Straw fedoras have a lighter look and feel that's best for the summer months.
Fedora look-alikes
Trilby hats look very similar to fedoras, so many people don't know the difference. The top part, or crown, has the same shape as a fedora, but the back brim is slightly shorter than the front. Trilby hats have a narrower brim all around and are angled down in the front. The homburg style of hats also closely resembles a fedora, except it's dressier for a more formal appearance. A homburg's crown has the same crease as a fedora, but the sides are not pinched together. The brims are stiff and upturned all the way around.
Western hats and wide flat brims
Western hats, commonly known as cowboy hats, have wide brims and high crowns. They're usually seen with blue jeans and boots and can be dressed down for work or dressed up for special events. Guys who aren't working with crops or cows wear hats with a similar appearance, but a different name. Simply known as wide flat brim hats, these hats are a combination of cowboy hats and fedoras. Wide flat brim hats are a trendy way to add statement to your style.
Boaters
Straw hats with a flat top, ribbon around the side and a wide, stiff brim are called boaters. This style is more of a novelty in today's fashion, often worn by barbershop quartets, but it's still a formal option for summer events. Men pair boaters with a blazer or lounge suit as an alternative to fedoras.
Flat caps
Flat caps are usually associated with tweed fabric and Englishmen. This style of hat crossed the pond when American newsboys helped make it popular in the States. The flat cap looks sophisticated and sporty; it falls between baseballs caps and fedoras. Flat caps are called many names, such as the cabbie cap, driving cap, Ivy cap, golf cap or Irish cap. They're also made from a variety of materials, but tweed and cotton are the most common.
Hat trends have shifted as fashion evolves, but a well-worn hat has never gone out of style. Men who want to polish their look from standard to sophisticated learn to take advantage of the different hat options. If you can master the art of wearing a hat, you will never lose your sense of style.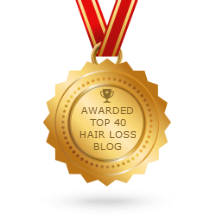 This blog has been ranked as a Top 40 Hair Loss Blog! Check out the complete list here.
Hours
Monday - Thursday: 8am - 5pm
Friday: 8am - 4pm